Condo vs. Homeowners Insurance
Let's put it this way.  Purchasing a home is one the most exciting things most people will ever get to do during their life time. Whether your new piece of heaven on this earth is coming in the form of a house or a condo doesn't change the excitement and thrill of finally moving into a place you finally own. Even if for a while, your lending bank will be the one as the principal of that deed of yours, the emotion is still the same.
Owing a home brings with it its own sets of responsibilities and one thing we get asked a lot, here at LNC Insurance Providers agency is:
Is there really a difference between a house and a condo in terms of insurance?
The short answer to that question is that yes but before we get to the nitti gritty of it all, please make sure to read all about Florida Homeowner's Insurance, and that to do about break-ins. You might also want to familiarize yourself with what to look for when choosing the best homeowners insurance.
Get a Condo Insurance Quote
We tell you what to look for in a condo insurance
Condos vs Houses: What sets one insurance coverage type from the other?
If you own a house, then that means that you are usually responsible for both the outside and the inside of your home. What that really means is that you will need to plan for two types of coverage:
One for the building of the house. Walls, windows, doors, roofs, garden shed, driveway etc...  Anything that you "see from the outside" as you look at your house.
Homeowner's insurance which takes care of the belongings you put inside your house.
A condo, on the other hand is a property that is part and parcel of a number of other properties which all fall under the responsibility of a condo association (HOA). In these types of development, owners share common areas and pay a monthly fee to their associations which typically ensures the outside of all the building within that community.
If you own a condo, you are thus not required to purchase any insurance that would cover structural damages to the building in which your condo was built.
You are however responsible for what is inside of you home which means homeowners insurance.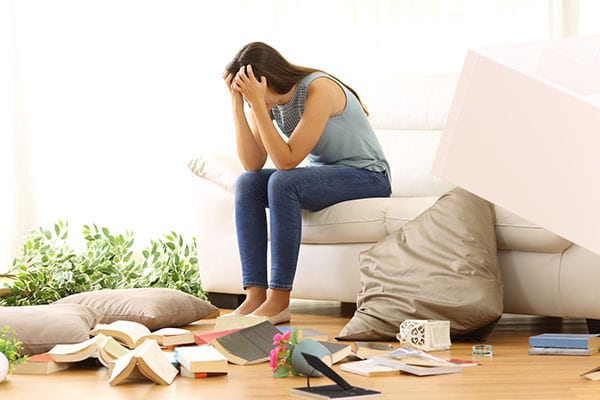 Differences:
If you own a house and someone falls in your garden, slips by the pool etc... you would need enough liability coverage to ensure that these types of eventualities are covered since they would fall under what is assumed as being your responsibility as a home owner.
If you own a condo and a situation described above happens outside of your condo, then you would be held responsible.
Similarities:
Insuring personal belongings is the same whether you live in a house or a condo. Such protection would cover electronics, jewelry, furniture, clothing and any movable object with the confines of your home's walls.
What you need to do:
You'll need to make sure that you have enough protection to cover as much as possible of the total value of your belongings. Make sure you take a home inventory of everything you own inside your home and keep it in a safe place.  You might want to share it with your insurance agent to make sure you have enough coverage for all your stuff.