DISCOVER A BETTER CONDO INSURANCE
Quotes From Top Rated A+ Insurance Companies
Work With an Agent Who Understands The Florida Condo Insurance Market
A Price To Fit Your Budget.  Select From 32 Available Plans
Find the Best Condo Insurance Protection In 12 Minutes
Two ways To Get A Quote. Call us right now or fill the form bellow
Don't
Leave
This
for Later
Get the right Condo Insurance
Below are two Examples of Recent Condo Insurance Proposals

| Sample Quote 1 | Condo Policy |
| --- | --- |
| Quoted Coverages | Limits |
| Dwelling | $50,000 |
| Personal Property | $25,000 |
| Loss of Use | $10,000 |
| Personal Liability | $3000,000 |
| Medical Payments | $2,500 |
| TOTAL ANNUAL PREMIUM | $307.18 |
| Sample Quote 2 | Condo Policy |
| --- | --- |
| Quoted Coverages | Limits |
| Dwelling | $70.000 |
| Personal Property | $35,000 |
| Loss of Use | $14,000 |
| Personal Liability | $3000,000 |
| Medical Payments | $2,500 |
| TOTAL ANNUAL PREMIUM | $493.74 |








Condo Insurance | L & C Insurance
We offer a comprehensive set of coverages to protect your condominium unit. Once you start a quote, we'll recommend to you the appropriate amount of insurance needed for your condo by calculating property and building construction information from multiple databases.
Dwelling
Protect your dwelling (your place of residence, in this case your condo unit) flooring, inner walls, fixtures and counter-tops. You'll be protected against untimely events such as wind, hail, fire and theft.
Loss of use
Any increase in living expenses and lodging will be covered in case there is damage to your home and you cannot stay there while it is being repaired. You won't have to be dependent on anyone.
Other structures
Protect the other structures on your property such as a balcony, terrace, patio, fence or detached garage. We include coverage for these types of structures in every policy at no extra cost.
Liability
In the event that a claim is made or a suit is brought against you for property damages or bodily injury, your policy will cover these costs up to the amount of this coverage you select to carry.
Contents
Have peace of mind knowing that your personal property such as furniture, TVs, computers and laptops are covered in case something should happen to them, while they are anywhere in the world.
Medical payments
Your policy will cover necessary medical expenses (up to the amount of this coverage you select to carry) incurred in the event there is an accident at your home causing bodily injury to someone else.
Optional coverages for condominium insurance

Special unit owners coverage
Broadens coverage to include water intrusion, accidental damage to floors and other direct losses to your unit that the policy does not cover by default.
Special personal property cov.
Broadens coverage to include water damage and other direct losses to your personal property that the policy does not cover by default.
Personal property replacement
If your property such as furniture, computers and TVs get damaged, this coverage will replace those items at their full value (as if they were new). It's an enhanced form of contents coverage.
Additional contents coverage
Specify additional amounts of Contents Coverage for categories of items such as jewelry, watches, silverware, goldware, pewterware furs, firearms and portable electronics.
Insurance on individual items
Insure a specific piece of jewelry, artwork, family heirloom etc. These items tend to be of high value and/or are not easily replaceable.
Water back up
Provides coverage for damage caused by water that backs up through sewers or drains.
Mechanical breakdown
Provides coverage to be used for mechanical breakdowns to household appliances located on the property.
Refrigerated property
Provides coverage towards refrigerated property in the event of a power outage.
Debris removal
Helps pay for costs to remove debris caused by events such as wind, hail and fire.
Personal injury
Provides an amount of coverage to use if you are sued for personal injury to someone. Examples of personal injury are false arrest, malicious prosecution, wrongful eviction, slander or libel.
Animal liability
Use a portion of the policy's Liability Coverage and up to the full amount of Medical Payments Coverage in the event of bodily injury to someone else caused by animals kept at the property.
Structures rented to others
If you have a guest house or similar structure on your property that you rent to others, this will extend coverage to that additional structure.
Discounts
Save year after year with policy discounts. Don't worry if you do not currently have a qualifying burglar or fire alarm. Install them at a later date and we'll add the credit to your policy. Even making heating, plumbing and electrical updates down the road can save you money on your policy.
Burglar alarm
Save money with an alarm that alerts the policy directly or one that is monitored by a third party who alerts the police.
Fire sprinklers
Some homes and buildings may have sprinklers that go off automatically when a fire is detected.
Age of home
Replace your roof and/or make qualifying heating, plumbing and electrical updates to save money on your policy.
Building code
We'll access the building codes of your property to find out if they are current enough to qualify for a discount.
Fire alarm
Save money with an alarm that alerts the fire dept. directly or one that is monitored by a third party who alerts the fire dept.
Updates
Replace your roof and/or make qualifying heating, plumbing and electrical updates to save money on your policy.
Prior insurance
You can save money by simply having prior home, condo or renters insurance for where you live now.
Hail resistant material
Hail resistant roof material is a stronger and more flexible roof material used to reduce and even prevent damage from hail.
Simply call 888-913-6988 or complete our online quote request form.
Liz Fernandez at L & C Insurance Providers will help you find affordable Florida Condo Insurance to protect one of your most valuable assets.
Flood Insurance | L & C Insurance Providers

Flooding is the leading cause of disaster in the United States. Florida residents file more flood insurance claims than any other state. Mere inches can cause thousands of dollars' worth of damage to your home.
Florida flood insurance is your only protection against flood damage. L & C Insurance Providers can make it simple and easy to understand the type of flood insurance that will adequately suit your dwelling. Simply call 888-913-6988 or complete our online quote request form.
Many homeowners are under the false assumption that their homeowner's insurance would cover loss caused by a flood in the home. Flood insurance is not included in your homeowner's policy and must be purchased separately.
L & C Insurance Providers can provide flood insurance to policyholders through the National Flood Insurance Program (NFIP). Your local L & C Insurance Providers agent will help you find the Florida flood insurance to protect your most valuable asset from the most common form of destruction.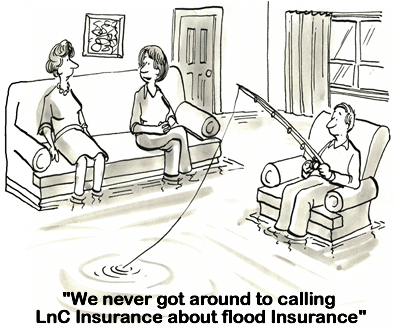 What is Flood Insurance?
L & C Insurance Providers can help protect your investment with a Florida flood insurance policy through the NFIP. The NFIP is administered by the U.S. Government. It was designed to lower the rising costs associated with repairing damage to property and belongings caused by flood. Florida has the largest number of participants in the NFIP. While flood insurance is backed by the government, it cannot be purchased directly but must be purchased through an insurance agent.
Who Needs Flood Insurance?
Federal law requires homeowner's with property in flood zone areas or areas designated as high-risk have flood insurance. Depending on the location of the home, flood insurance could be required as a condition of the mortgagee. Properties in areas considered low or moderate risk are not required by federal law to have flood insurance-however, a lender can still make it a requirement. Flood insurance is available to homeowner's and renters and is highly recommended to all living in Florida.
L & C Insurance Providers agents can help you identify your property's risk to assess your needs for flood insurance.
Many homeowners assume they can collect federal disaster assistance if a flood occurs but it is only offered when the president declares a major disaster which only happens in half of all flooding situations.
Why Flood Insurance is Important
The entire state of Florida lies within FEMA's (Federal Emergency Management Agency) highest designation of storm frequency, making Florida a flood zone with varying levels of risk. FEMA charts flood zones on consistently updated government maps. Flooding poses a threat to a high number of Florida homes due to the proximity to water and the high number of properties in coastal areas.
You do not have to live in a high risk flood zone to experience damage, 25 percent of flood insurance claims come from low or medium risk communities.
L & C Insurance Providers can help you select the right flood insurance whether you want to cover your structure, belongings or both.
Flooding can be caused several different ways. Hurricanes or tropical storms, an overflow of inland or tidal waters, a rapid accumulation of rain or runoff of surface waters from any source, mudflow or collapse of land or erosion can cause flooding as well as a broken water main.
It takes only inches of water in your home to cause thousands of dollars' worth of damage. Considering the expenses associated with repairing flood damage it makes sense to purchase flood insurance. According to the National Flood Insurance Program (NFIP) the average flood insurance claim amount between 2010 and 2014 was $42,000.
What Is Condo Insurance?
Condo insurance provides coverage for the inside of your condominium; the external areas fall under the jurisdiction of your condo association and must be covered under the association's insurance policy. Depending upon the specifics of your condominium association's master policy, your condo insurance may include coverage for:
The interior walls
Your appliances
Your personal property and valuables
In addition to covering your belongings in the event of a loss, your condo insurance also protects you against liability claims if you are responsible for another person's injury or property damage, or you have legal fees to pay due to a lawsuit.
We will help you compare rates from multiple insurance companies and choose the most suitable coverage for your needs.
What Does Condo Insurance Cover?
Condo insurance policies typically cover what the condo association's master policy doesn't cover. A condo association master policy can be of two types:
An "all-in" condo master policy: Also known as a "single-unit" master policy, this type of policy covers the fixtures in your condo such as the appliances, wiring, plumbing, and carpets, but does not cover personal property that you own.
A "bare walls-in" condo master policy: This policy does not cover anything contained within your walls. It may or may not cover your condo's plumbing and electrical systems. Be sure to carefully review the association's master policy to determine what your condo insurance policy needs to cover.
You will need to buy more of your own condominium insurance if your association has a "bare walls-in" condo master policy than if it has "all-in" condo master policy.
Your condo insurance policy will cover you for loss or damage to your personal possessions, and provide coverage for personal liability and medical payments. Additionally, it will often cover loss of use in the event that your condominium becomes.
How Does Condo Insurance Work?
Your condo association's master policy, or HOA policy, will cover damage to your condo building, grounds and other external features. Your condominium policy therefore needs to cover your personal possessions, appliances, and sometimes installed fixtures and other attached features in the unit.
In the event of a covered loss, such as a burglary or fire, you will need to file a claim with your insurance company, and/or the condo association's insurance company. For example, if your condominium was burglarized, most likely you will simply file a claim with your insurance company. However, if the burglary involved breaking and entering that destroyed an external doorway or if the external security experienced a failure that made the burglary possible, the claim may involve both your insurance company and the condo association policy.
Why Is Condo Insurance Important?
Condo association coverage will only cover the exterior of the condominium. For the interior and for your possessions, condo insurance will cover potential losses, such as theft of or damage from fire.
You also need to protect yourself from liability claims and lawsuits if someone is injured in your condo or you are responsible for damage to someone else's property. Note that liability often covers your responsibility for libel, slander, and other bodily injury claims. Because liability claims can lead to lawsuits, it is important to evaluate the amount of coverage you need to protect yourself financially.
For complete protection, many people purchase umbrella liability policies. An umbrella policy provides liability protection that will exceed what your condo and auto policies will cover.
How Much Does Condo Insurance Cost?
Condo insurance costs vary. The cost of condo insurance, on average, ranges from $100 to $500 per year, depending on the value of your personal property and the type and amount of coverage you carry. For example, someone with a number of valuables, such as jewelry, fine art, antiques or collectibles, will need to add additional coverage for those items.
Is Condominium Insurance Tax Deductible?
Condo insurance as a rule, like homeowners insurance, cannot be deducted on your taxes. However, if you rent the condo out to another person, you may be able to deduct the cost of your condo or landlord insurance, at least as it applies to depreciation, wear and tear. Also, if you operate a business out of your condo, you can typically deduct a portion of your condominium insurance from your taxes.
Does Condo Insurance Cover Theft?
Your condominium insurance will cover theft or burglary if your policy includes personal property coverage. Depending on the details of your policy, you may even be covered for items that are stolen from your car. However, you should be aware that certain items may be either excluded or have specified limits, and you may require additional riders or endorsements to get full coverage on such things as jewelry, art, collectibles and other valuable items.
To ensure that all of your items are covered against theft or damage, you may want to take a full inventory of your personal possessions and estimate their value. Many condo owners are surprised to find out how much they have that is worth protecting. Be sure to compare the amount of coverage you have with your inventory to determine whether you have enough insurance. By taking an inventory of your items you also can create a record of what you own, so that in the event of a loss you are well prepared to file a claim.
Does Condo Insurance Cover Hurricane Damage?
If you have condo insurance, you will be covered for damage to your possessions and the interior of your condo from major storms such as hurricanes, tornadoes and windstorms. Damages to fixtures, plumbing or wiring may or may not be covered under the condo association's master policy, as some condo policies cover fixtures while others only cover bare walls. If the master policy is a "bare walls" policy then you may opt to get a condo policy that covers these items. It is always important to understand the coverage your condo association carries so that you avoid coverage gaps.
Does Condo Insurance Cover Special Assessments?
Basic condo insurance does not typically cover special assessments. However, in some policies, special assessment coverage is included for "named perils." For example, if a fire damaged your condominium, including common areas, the unit owners in the association may receive a special assessment notice to cover some of the costs of the repairs. Depending on the specifics of your condo insurance policy, you may have some coverage that would help you cover your portion of the assessment.
You will have to separately purchase special assessment insurance, also known as "title insurance," which covers special assessments not contained within your condo property documents.
Does Condo Insurance Cover Appliances?
Yes, appliances are typically covered under your condo insurance policy. Be sure to review the specifics of your policy and the limits on appliance coverage, and update it as needed. For example, if you move into your condo and the original policy adequately covers your old appliances but you choose to upgrade your stove and dishwasher a month later, it's a good idea to make some adjustments to your policy.
How Much Condo Insurance Should I Have?
One of the first questions condominium owners ask after they buy is, "How much condo insurance should I get?" Basically, you can get a rough idea of how much insurance you need by performing an inventory of all your personal items and figuring out how much it would cost to replace your belongings after a burglary or fire. Certain valuable items may need special or additional coverage.
Let's say, for example, that you have $10,000 worth of jewelry, $20,000 worth of furniture, and another $20,000 worth of electronics, clothing items and other personal items. The important things to check include whether your total coverage limits are set high enough, and whether any one item in your personal property inventory exceeds the "per-item limit." For example, if you a diamond necklace worth $5,000, but your per-item limit for jewelry is $1,000, your insurance is not adequately covering your items.
Why Us?
We know that you have choices when it comes to choosing a condo or flood insurance company.
All we ask is that you give us an opportunity to show you what we can do for you. We will not disappoint you.
Over 10 Years Experience
We are a Florida Independent Insurance broker. We have been helping Floridians for over 10 years. We only work with Rated A+ companies, so you don't have to worry in the event of a claim. All of our carriers offer 24/7 claim support.

We Offer
Highly Personalized
Insurance Coverage

Our rates are
REALLY
Affordable
You can contact us electronically
Or by phone

we want
to help