Florida Homeowners Insurance

DISCOVER A BETTER HOMEOWNERS INSURANCE FLORIDA

Homeowners Insurance Quotes From Top Rated A+ Insurance Companies
Work With an Agent Who Understands The Florida Home Insurance Market
A Price To Fit Your Budget.  Select From 32 Available Plans
Find the Best Home Insurance Protection In 12 Minutes
Two ways To Get A Quote. Call us right now or fill the form bellow
Don't
Leave
This
for Later
Get the best Homeowners Insurance in Florida

Below are two Examples of Recent Home Proposals

| Sample Quote 1 | Homeowner's Policy |
| --- | --- |
| Quoted Coverages | Limits |
| Dwelling | $222,000 |
| Personal Property | $110,000 |
| Loss of Use | $22,000 |
| Personal Liability | $3000,000 |
| Medical Payments | $2,500 |
| Other Structures | $22,000 |
| TOTAL ANNUAL PREMIUM | $649.74 |
| Sample Quote 2 | Homeowner's Policy |
| --- | --- |
| Quoted Coverages | Limits |
| Dwelling | $300.000 |
| Personal Property | $110,000 |
| Loss of Use | $30,000 |
| Personal Liability | $3000,000 |
| Medical Payments | $2,500 |
| Other Structures | $30,000 |
| TOTAL ANNUAL PREMIUM | $774.83 |








Homeowners Insurance Florida
L & C Insurance Providers agents can easily explain the circumstances specific to Florida homeowners, along with mortgage requirements and the difference between dwelling, personal property, liability, medical payments and loss of use coverage as well as available discounts.
Check out our online request form and a knowledgeable L & C Insurance Providers agent will find the best options for you to choose from.
Your home is likely your most costly asset. It contains your belongings and valuables and more importantly your family and cherished memories.
After the overwhelming task of finding a new home in Florida, it can be tempting to settle by purchasing a basic homeowner's insurance policy that could leave you with inadequate coverage or paying for more coverage than you need.
Liz Fernandez at L & C Insurance Providers will make sure your homeowner's insurance policy will provide adequate coverage to protect your home from fires, hurricanes, break-ins and more. Compensation for your financial loss will allow you and your family to continue living comfortably.
Our knowledgeable agents in Florida will explain the details and variety of home insurance coverage available to you.
We are familiar with the unique circumstances and needs that Florida homeowners face such as flood and hurricane damage.
L & C Insurance Providers shops all the major carriers in Florida, to find the best policy and the best rate. Easy, Low-Cost and Worry Free. That's the L & C Insurance Providers promise.
Simply call 888-913-6988 or complete our online quote request form.
Liz Fernandez at L & C Insurance Providers will help you find affordable Florida Homeowners Insurance to protect one of your most valuable assets.
Important: We serve the needs of the entirety of Florida. If you need homeowners insurance in Naples, Miami, Tampa, Boca Raton, Orlando or anywhere else in the sunshine state, we can help you!
Flood Insurance | L & C Insurance Providers

Flooding is the leading cause of disaster in the United States. Florida residents file more flood insurance claims than any other state. Mere inches can cause thousands of dollars' worth of damage to your home.
Florida flood insurance is your only protection against flood damage. L & C Insurance Providers can make it simple and easy to understand the type of flood insurance that will adequately suit your dwelling. Simply call 888-913-6988 or complete our online quote request form.
Many homeowners are under the false assumption that their homeowner's insurance would cover loss caused by a flood in the home. Flood insurance is not included in your homeowner's policy and must be purchased separately.
L & C Insurance Providers can provide flood insurance to policyholders through the National Flood Insurance Program (NFIP). Your local L & C Insurance Providers agent will help you find the Florida flood insurance to protect your most valuable asset from the most common form of destruction.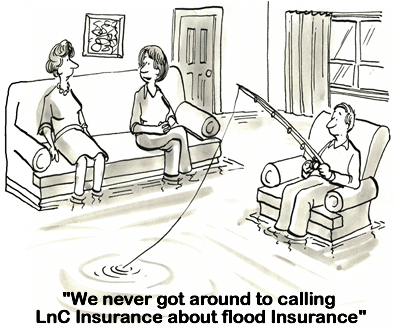 What is Flood Insurance?
L & C Insurance Providers can help protect your investment with a Florida flood insurance policy through the NFIP. The NFIP is administered by the U.S. Government. It was designed to lower the rising costs associated with repairing damage to property and belongings caused by flood. Florida has the largest number of participants in the NFIP. While flood insurance is backed by the government, it cannot be purchased directly but must be purchased through an insurance agent.
Who Needs Flood Insurance?
Federal law requires homeowner's with property in flood zone areas or areas designated as high-risk have flood insurance. Depending on the location of the home, flood insurance could be required as a condition of the mortgagee. Properties in areas considered low or moderate risk are not required by federal law to have flood insurance-however, a lender can still make it a requirement. Flood insurance is available to homeowner's and renters and is highly recommended to all living in Florida.
L & C Insurance Providers agents can help you identify your property's risk to assess your needs for flood insurance.
Many homeowners assume they can collect federal disaster assistance if a flood occurs but it is only offered when the president declares a major disaster which only happens in half of all flooding situations.
Why Flood Insurance is Important
The entire state of Florida lies within FEMA's (Federal Emergency Management Agency) highest designation of storm frequency, making Florida a flood zone with varying levels of risk. FEMA charts flood zones on consistently updated government maps. Flooding poses a threat to a high number of Florida homes due to the proximity to water and the high number of properties in coastal areas.
You do not have to live in a high risk flood zone to experience damage, 25 percent of flood insurance claims come from low or medium risk communities.
L & C Insurance Providers can help you select the right flood insurance whether you want to cover your structure, belongings or both.
Flooding can be caused several different ways. Hurricanes or tropical storms, an overflow of inland or tidal waters, a rapid accumulation of rain or runoff of surface waters from any source, mudflow or collapse of land or erosion can cause flooding as well as a broken water main.
It takes only inches of water in your home to cause thousands of dollars' worth of damage. Considering the expenses associated with repairing flood damage it makes sense to purchase flood insurance. According to the National Flood Insurance Program (NFIP) the average flood insurance claim amount between 2010 and 2014 was $42,000.
Flood Insurance FAQs
Most flood insurance policies require a 30-day waiting period before the policy goes into effect unless you have a new home purchase and closing is less than 30 days.
Flood policies must be paid in full upfront.
Policies are purchased for a one year term.
Premiums are based on the amount of coverage you desire, your deductible amount selected, your property's flood zone risk, location and foundation type on your home.
Flood insurance covers the home's foundation and its support systems as well as appliances.
Coverage is available for the structure and/or your belongings.
L & C Insurance agents can help you identify what is covered under building property coverage and personal property coverage as well as coverage for lower levels in your home such as basements and crawlspaces.
They can walk you through how damages are valued explaining the difference between Replacement Cost Value, RCV or Actual Cash Value, ACV and other special considerations.
Why Us?
We know that you have choices when it comes to choosing a homeowner of flood insurance company.
All we ask is that you give us an opportunity to show you what we can do for you. We will not disappoint you.
Over 10 Years Experience
We are a Florida Independent Insurance broker. We have been helping Floridians for over 10 years. We only work with Rated A+ companies, so you don't have to worry in the event of a claim. All of our carriers offer 24/7 claim support.

We Offer
Highly Personalized
Insurance Coverage

Our rates are
REALLY
Affordable
You can contact us electronically
Or by phone

we want
to help